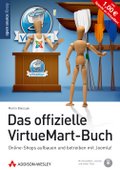 "The official VirtueMart Book" in German has recently been published by Addison-Wesley!
This book covers the VirtueMart software and explains its practical use. Beyond this, it aims at leading the interested reader from understanding the oroginal idea to developing the final online-shop-product. The VirtueMart Shop is conceived as a handbook and reference source. This is what makes the difference to other books and is expected to make the book attractive to large audiences. Enclosed you will find a CD with all the software covered in this book The french translation will be published this summer, an english translation will be available later this year.
If you like to translate it into other languages please contact the author, Martin Blasczyk.
The VirtueMart Project will receive 1€ for each sale of the book, so if you want to support VirtueMart, this book gives you a great chance!